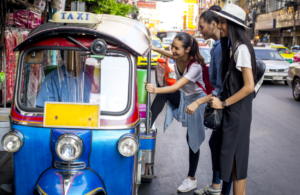 Some people pick vacation destinations that center around world-class sites. The Grand Canyon, Eiffel Tower, the Vatican and Great Wall of China all come to mind — and there will be times when you're ready to face such crowds and lay eyes upon must-see sites. There will also be other times, says travel guide expert Andrew M. Berke, that the last thing you want to experience during a relaxing vacation is stress from your surroundings. Given that tourism in Paris just hit a 10-year high of 16 million in 2017, according to The Telegraph, it's easy to know where not to go. It's not as easy to locate the locations that offer a peaceful stay away from home. That's exactly what Andrew Berke hopes to offer readers in this piece dedicate to the far-off lands that will get you equally far away from the hustle of modern tourism.
According to TripsToDiscover.com, the Las Alamandas Hotel in Mexico is undoubtedly in the "secluded" section of vacation destinations. While the coastal area along the Pacific Ocean is home to a 16-room resort, getting there proves to be a bit of a planning process. The article states that guests can either fly into one of two airports then make a two-hour drive to "The Virgin Coast" or charter an airplane to take you to the resort's landing strip. If warm weather is your thing but something a bit more exotic is also desired, then a trip to Four Seasons Golden Triangle in Thailand is in order. Tents, paddle fans and elephant rides all await, according to the article, but you'll need to "take a 75-minute flight from Bangkok to Chiang Mai followed by a four-hour scenic drive passing dozens of hill-tribe villages as well as a brief long-tail boat ride down the Ruak River." Andrew M. Berke says that such travel obligations are par for the course when you want to arrive at far-flung destinations. For those who'd like to stay a little closer to home, the remote resort of Amangiri in Utah is still a domestic destination. A desert hike through "fiery-red rock canyons" will be on the itinerary after a flight to the nearest municipal airport then two-plus-hour drive.
Andrew Berke knows that these locations may seem like a tall order for some, but accomplished travelers should find each of them manageable with a bit of planning. This includes shopping for airline tickets weeks ahead of time, booking passes for the vehicle transportation that's required and learning a bit about the local customs and language you're about to be surrounded by.