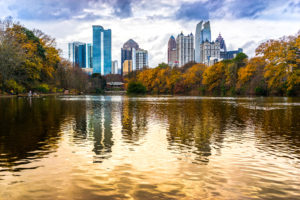 When it comes to "getting away," you don't always need to leave the country in search of an overwhelming experience. In fact, there are plenty of locations inside the U.S. that are ideal fall destinations, says travel expert Andrew M. Berke. Think fall foliage in full bloom, shorter lines due to traveling during off-peak times and weather that is a bit more conducive to spending prolonged periods outdoors. This type of insider knowledge is what you stand to gain by heeding the advice of a travel expert, therefore we encourage you to continue reading and learn about all the ways the domestic travel in the U.S. during the fall is a viable vacation option.
According to The Boston Globe, weather conditions over the past three seasons of late 2016 and early 2017 have helped create the perfect setting for fall foliage in the New England region. Former meteorologist Jim Salge told the newspaper that a sharp decline in the recent warm temperatures that have been seen across the northeast — as well as dissipation of any lingering cloud cover — would further benefit the leaves changing colors. In recent years, the Associated Press reports that tourists to the New England region spent a combined $3 billion during their trips. According to travel guide Andrew M. Berke, this is a testament to the offerings that Vermont, Maine, Massachusetts and more have to offer. Best of all, the peak foliage season is in late October so those considering taking time off from work still have the chance to catch the vibrant  colors that populate millions of maple trees across the region.
According to USA Today, the seasonal perks of fall travel extend to more than sight-seeing in New England. For example, temperatures in sunny San Diego, California will hit the 70s at most and the typical number of tourists who flock to Washington D.C. taper off considerably come September, October and November. Regarding San Diego, a fall visit means you won't have to suffer summer temperatures that typically top out at closer to 80 degrees during the hottest months. Therefore, travel expert Andrew M. Berke says those mulling a trip to the West Coast should then visit the San Diego Zoo or Midway Aircraft Carrier Museum without having to worry about keeping young ones comfortable in sweltering heat. Those mulling a trip to this country's capital will join the ranks of 20 million other domestic tourists who visited in 2016, according to the Washington Business Journal, and spent a combined $7.3 billion while there. According to travel expert Andrew M. Berke, the above attractions prove that domestic travel during the fall is a great way to getaway without having to cross continents.